Discover Your Creative Potential: Music, Acting, Bands, and Choir Programs for All Ages & Ability Levels
Pictures From our Pickering Academy Summer Student Showcase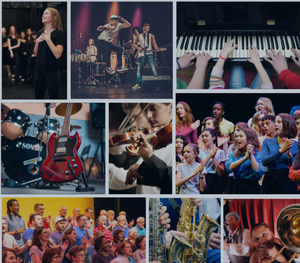 WELCOME TO PICKERING CREATIVE ARTISTS ACADEMY!
Welcome to Pickering Creative Artists Academy, the number 1 destination in Colorado for music, performing arts, and entertainment lessons, classes, events, and experiences.
We offer a wide range of classes and lessons for all ages and skill levels, from beginners to advanced performers. Whether you're interested in music lessons, acting lessons, or performing arts classes, we have something for everyone. But the benefits of studying at Pickering go far beyond just mastering new skills. Our students develop confidence, discipline, and a strong sense of self-expression that will serve them well in all areas of their lives. They learn to collaborate, communicate, and think creatively, skills that are highly valued in today's world. 
Music Lessons & Classes for All Styles
At Pickering Creative Artists Academy, we truly care about our students and understand that everyone has their own musical journey. That's why our music teachers take the time to get to know each student on a personal level, so we can provide the best possible instruction to help you achieve your musical goals. Our music instructors are dedicated to providing personalized instruction tailored to each student's individual needs. When you enroll in our music lessons and classes, your instructor will take the time to understand your musical preferences and aspirations, and work with you to create a customized plan to help you achieve your goals. Whether you're a complete beginner or an experienced musician, we're here to guide you every step of the way. So don't be shy, come and join us on this musical adventure! 
Are you looking for Music Lessons "Near Me?"
Pickering Creative Artists Academy is conveniently located just off of Arapahoe Rd. and South Jordan Rd. at 6920 S Jordan Rd., Suite G, Centennial CO. We are proud to serve the communities of Aurora, Centennial, Denver, DTC-Denver Tech Center, Greenwood Village, Highlands Ranch, Littleton, Lone Tree, and Parker, and welcome students from all over Colorado! 
Come and check us out! Our talented and enthusiastic music teachers can teach you how to play nearly any instrument you desire, from voice to guitar and piano to drums, violin and more. We offer lessons for kids, teens, college students and adults. Browse our selection of instruments below to learn more about the lessons we offer. We can't wait to help you begin your musical journey!
Are you looking for Acting Lessons "Near Me?"
Our acting and musical theatre classes focus on developing acting skills such as voice projection, stage presence, character development, and more. We offer classes for all levels of experience, from beginner to advanced, and our experienced instructors work with each student to help them develop their own unique style. 
Are you looking for Performing Arts Summer Camps?
Our performing arts summer camps are a great way for students to further develop their skills and have fun in a supportive and creative environment. We offer a variety of camps, including music, theatre, and performing arts camps. 
Are you looking for Performance Opportunities?
We offer numerous opportunities for students to showcase their talents, including showcases, concerts, theatrical performances, special events and more. Our students have the chance to perform in front of audiences and receive feedback from experienced professionals. 
So why choose Pickering? Because we believe in the power of positive relationships and the arts to change lives, and we're committed to creating a space where everyone can explore their creativity, grow as artists and as people, and be part of a community that celebrates the performing arts and entertainment. We can't wait to welcome you to our family!
"

We are so grateful for the experience our kids are getting while taking lessons at Pickering. They are learning so much and having a blast! Michael is so patient and intuitive to each kid's needs and ability." - Megan K
Our Fun & Interactive Classes