Songwriting Classes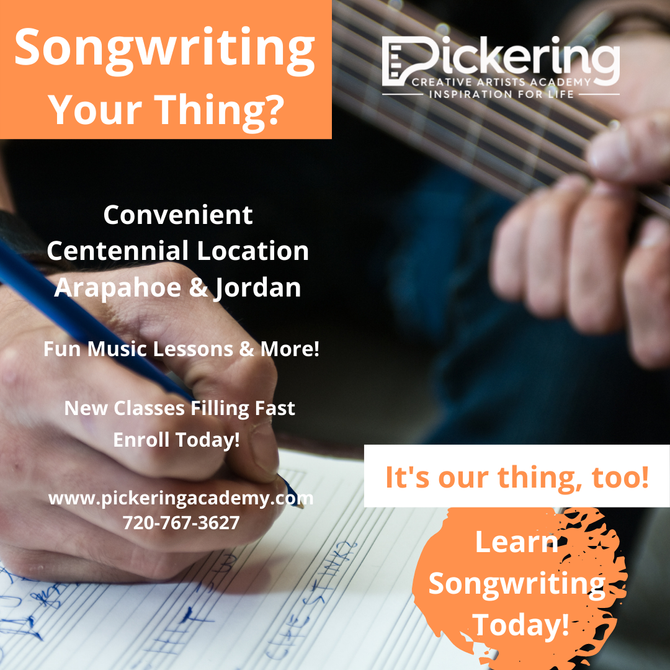 Classes for Kids, Teens, & Adults!
Have fun. Make friends. Be inspired.
Our classes are FUN! From Mozart to Post Malone, we do it all!
"

I've learned so much from you about the rare art of storytelling! Thank you for helping me discover my artist's heart." - Taylor Snow (Singer/Songwriter)
SONGWRITING CLASSES
PICKERING CREATIVE ARTISTS ACADEMY songwriting classes will guide you to learn to write artfully as well gain the skills for writing commercially-viable songs. You'll develop a creative approach to contemporary music compositions, gaining real-world experience along the way. PICKERING CREATIVE ARTISTS ACADEMY will help you develop skills in melody, harmony, arranging, lyric writing, and an individual writing style. If you are interested in writing songs for other artists, you also have the option of taking music producing lessons where you will learn studio and MIDI demo production techniques. Our core philosophy is that contemporary performance-based music education is the best way to inspire students, gain musical proficiency, and encourage a passion for music. All of our lesson programs include a performance aspect.
MAKE FRIENDS WHILE MAKING MUSIC!   
MUSIC IS A GROUP SPORT! There are SO MANY benefits to learning with others, not to mention making lifelong friends in the process.  
Songwriting Class Schedule
Mondays: 7:00pm
Wednesdays: 7:00pm
Fridays: 2:00pm
Saturday: 1:00pm